From: Carhartt.com - Wednesday May 11, 2022 03:08 pm
---

Before you could buy our new, re-engineered Carhartt Force® t-shirt, we enlisted thousands of Team Rubicon Greyshirts to help us battle-test it. And if it's tough enough to be the official grey t-shirt of the volunteer Greyshirts, we're pretty sure our more breathable and flexible Force t-shirt's tough enough for anyone. Even if you don't get it in grey.
Born From Work. Built For Rising Temps.
With its improved stretch and breathability, zoned mesh panels, and comfier seams for a better range of motion, our new sweat-fighting, fast drying Carhartt Force® t-shirt stretches more, breathes better, and works harder than ever to keep you cool.
| | |
| --- | --- |
| MEN'S FORCE® MIDWEIGHT SHORT SLEEVE POCKET T-SHIRT | MEN'S FORCE® MIDWEIGHT LONG SLEEVE POCKET T-SHIRT |
| | |
| --- | --- |
| WOMEN'S FORCE® MIDWEIGHT POCKET T-SHIRT | MEN'S FORCE® SHORT SLEEVE BLOCK LOGO T-SHIRT |
"THESE ARE AMAZING"
I HAVE SEVERAL OF THESE AND WEAR THEM REGULARLY AND ABSOLUTELY LOVE THEM. MY FAVORITES ARE MY TEAM RUBICON GREYSHIRTS FROM CARHARTT, WHICH HAVE GOTTEN DIRTY IN OVER 10 STATES THE PAST YEAR RESPONDING TO ALL TYPES OF DISASTERS. THANKS FOR MAKING SUCH AN AMAZING PRODUCT!

ERIC S.
RENO, NV
"BULLETPROOF"
I WEAR THIS SHIRT AT TEAM RUBICON, WHERE CARHARTT PROVIDES OUR UNIFORM. THIS SHIRT IS BULLETPROOF, WICKS SWEAT, AND LOOKS SHARP.

"GIDDYAP"
COLORADO SPRINGS, CO
"STANDS UP TO TEAM RUBICON CONDITIONS"
GREY SHIRTS ROCK! THEY STAND UP TO EVEN THE TOUGHEST OPERATIONS, FROM HURRICANES TO TORNADOS TO FLOODS AND JUST ABOUT EVERYTHING MOTHER NATURE THROWS AT US. AS A MEMBER OF TEAM RUBICON, I HAVE WORN THIS (THESE) SHIRTS FOR MANY A DAY, "MUCKING OUT" FLOODED HOMES, TARPING ROOFS, CLEARING TORNADO-DOWNED TREES, HAVE YET TO
WEAR ONE OUT.

CHRIS R.
FT. WORTH, TX
Battle-Tested In Real World Emergencies
The new sweat-fighting, fast-drying Carhartt Force® T-shirt wasn't tested in normal conditions. Instead, it was put to the test by the military veterans and volunteer first responders of Team Rubicon. Good news, it passed — and new Carhartt Force® tees are proud to remain the official grey t-shirt of Team Rubicon and the volunteer Greyshirts. Click the video below to learn about how it truly earned its stripes.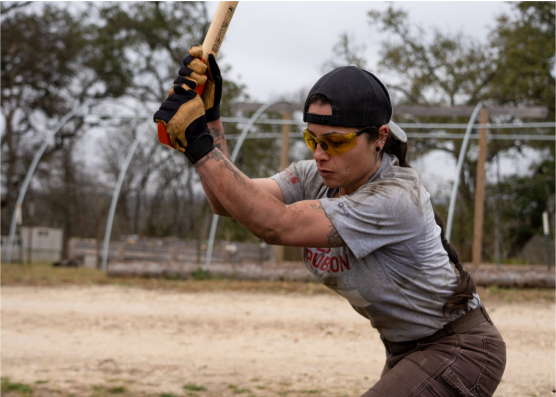 CARHARTT X TEAM RUBICON
Carhartt supports Team Rubicon in their mission to help whenever and wherever needed. Team Rubicon is a group of 150,000 military vets, first responders, and civilians who volunteer to help communities prepare, respond, and recover from disaster. But the work these heroes do goes well beyond rebuilding our communities. It also positively impacts the lives of military veterans transitioning back to civilian life by providing a renewed sense of purpose, community,
and identity through volunteering.