From: carter's - Thursday Nov 19, 2020 11:16 pm
---
And more early bird deals are waiting... ‌ ‌ ‌ ‌ ‌ ‌ ‌ ‌ ‌ ‌ ‌ ‌ ‌ ‌ ‌ ‌ ‌ ‌ ‌ ‌ ‌ ‌ ‌ ‌ ‌ ‌ ‌ ‌ ‌ ‌ ‌ ‌ ‌ ‌ ‌ ‌ ‌ ‌ ‌ ‌ ‌ ‌ ‌ ‌ ‌ ‌ ‌ ‌ ‌ ‌ ‌ ‌ ‌ ‌ ‌ ‌ ‌ ‌ ‌ ‌ ‌ ‌ ‌ ‌ ‌ ‌ ‌ ‌ ‌ ‌ ‌ ‌ ‌ ‌ ‌ ‌ ‌ ‌ ‌ ‌ ‌ ‌ ‌ ‌ ‌ ‌ ‌ ‌ ‌ ‌ ‌ ‌ ‌ ‌ ‌ ‌ ‌ ‌ ‌ ‌ ‌ ‌ ‌ ‌ ‌ ‌ ‌ ‌ ‌ ‌ ‌ ‌ ‌ ‌ ‌ ‌ ‌ ‌ ‌ ‌ ‌ ‌ ‌ ‌ ‌ ‌ ‌ ‌ ‌ ‌ ‌ ‌ ‌ ‌ ‌ ‌ ‌ ‌ ‌ ‌ ‌ ‌ ‌ ‌ ‌ ‌ ‌ ‌ ‌ ‌ ‌ ‌ ‌ ‌ ‌ ‌ ‌ ‌ ‌ ‌ ‌ ‌ ‌ ‌ ‌ ‌ ‌ ‌ ‌ ‌ ‌ ‌ ‌ ‌ ‌ ‌ ‌ ‌ ‌ ‌ ‌ ‌ ‌ ‌ ‌ ‌ ‌ ‌ ‌ ‌ ‌ ‌ ‌ ‌ ‌ ‌ ‌ ‌ ‌ ‌ ‌ ‌ ‌ ‌ ‌ ‌ ‌ ‌ ‌ ‌ ‌ ‌ ‌ ‌ ‌ ‌ ‌ ‌ ‌ ‌ ‌ ‌ ‌ ‌ ‌ ‌ ‌ ‌ ‌ ‌ ‌ ‌ ‌ ‌ ‌ ‌ ‌ ‌ ‌ ‌ ‌ ‌ ‌ ‌ ‌ ‌ ‌ ‌ ‌ ‌ ‌ ‌ ‌ ‌ ‌ ‌ ‌ ‌ ‌ ‌ ‌ ‌ ‌ ‌ ‌ ‌ ‌ ‌ ‌ ‌ ‌ ‌ ‌ ‌ ‌ ‌ ‌ ‌ ‌ ‌ ‌ ‌ ‌ ‌ ‌ ‌ ‌ ‌ ‌ ‌ ‌ ‌ ‌ ‌ ‌ ‌ ‌ ‌ ‌ ‌ ‌ ‌ ‌ ‌ ‌ ‌ ‌ ‌ ‌ ‌ ‌ ‌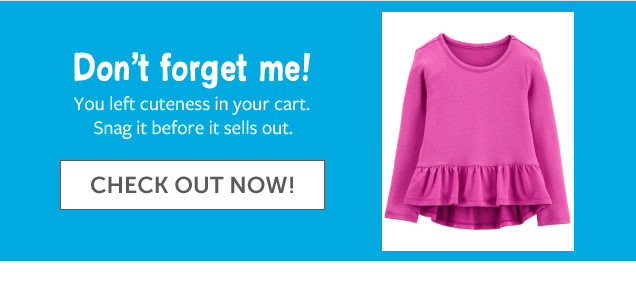 *EXCLUSIONS & DISCLAIMERS

50-60% OFF ENTIRE SITE & STORE: Savings based on MSRP. Excludes select new arrivals, LITTLE PLANET®, Sneak Peek, Treasure Box, Officially Licensed Fan Shop, Licensed Character Shop, SKIP HOP®, Doorbusters, limited edition overalls and Clearance. Other exclusions may apply.

WONDERFUL WEEKS OF GIVEAWAYS: NO PURCHASE NECESSARY. A PURCHASE WILL NOT INCREASE YOUR CHANCES OF WINNING. LEGAL RESIDENTS OF THE 50 UNITED STATES (D.C., UNITED STATES TERRITORIES (INCLUDING APO/FPO MILITARY ADDRESSES) & PUERTO RICO) 18 YEARS OR OLDER. VOID WHERE PROHIBITED. Sweepstakes ends 11/19/20. For Official Rules, prize descriptions and odds disclosure, visit www.cartersholidays.com. Sponsor: The William Carter Company, 3438 Peachtree Rd NE Ste 1800 Atlanta, GA 30326.


| | |
| --- | --- |
| | REWARDING MOMENTS: One moment please: Base Rewarding Moments points will show up in your account within 48 hours of order shipment or in-store pick up. Bonus points, if applicable, may be awarded separately within 72 hours of order shipment or in-store pick up. |

Rewards are not legal tender and will expire on the expiration date listed on the certificate. No cash back. Rewards can be earned and redeemed for merchandise only at Carter's and OshKosh B'gosh owned and operated stores in the U.S, and Puerto Rico, and at carters.com, oshkosh.com and skiphop.com. Carter's reserves the right to modify or discontinue this offer at any time. Void where prohibited. *Exclusions apply. See Terms & Conditions for details.

FREE SHIPPING on $35+: Free standard U.S. shipping on Carter's, OshKosh B'gosh and Skip Hop online orders of $35 or more. No code required at checkout on carters.com, oshkosh.com, or skiphop.com. Valid on only one shipping address per order. Promotion not valid on purchase of gift cards, express shipping or for shipments to U.S. P.O. boxes or U.S. Territories. Prices, promotions and selections may differ from those in our retail stores. Promotion not valid in retail stores. Not valid for cash. No adjustments on previous purchases. We reserve the right to change or cancel this promotion at any time.

CARTER'S CREDIT CARD:

1 Subject to credit approval. Limited to Free standard U.S. shipping on Carter's®, OshKosh B'gosh® and Skip Hop® online orders, valid with Carter's Credit Card purchases only. Valid on only one shipping address per order. Not valid on express shipping or for shipments to U.S. P.O. boxes or U.S. Territories.

2 Subject to credit approval. Must have valid email address and U.S. mailing address. Offer is exclusive to Carter's® Credit Card holders enrolled in the Rewarding Moments® program. This rewards program is provided by Carter's Inc. and its terms may change at any time. For full Rewards Terms and Conditions, please see https://www.carters.com/loyaltyTerms-Conditions.html.

*Subject to credit approval. Valid one time only. Duplicate offers will not be accepted. Cannot be combined with other offers. Excludes gift cards. Application and approval must occur same day to receive the offer.

Carter's® Credit Card Accounts are issued by Comenity Capital Bank.




For general inquiries, please call our Consumer Affairs at 888-782-9548
For questions on your order, or to place an order, please call our Online Store at 877-333-0117

In-store promotions valid only in Carter's retail stores in the U.S. and Puerto Rico (excluding Barceloneta stores). Online promotions valid at carters.com. Percent-off savings based on MSRP. Online prices, promotions and selection may differ from those in our retail stores. Not valid for cash. No adjustments on previous purchases. Available while supplies last. Carter's reserves the right to modify or discontinue these promotions at any time.

Were you forwarded this email?
Sign up for Carter's emails.

Privacy Policy
Carter's values its customers and respects their privacy. View our Privacy Policy.

Terms & Conditions
Click to view our Terms & Conditions

Unsubscribe
To unsubscribe from our email list, just click here. To manage your email preferences, click here.

Return Policy
Click to view our Return Policy.


©Carter's, 3438 Peachtree Road NE, Atlanta, GA 30326