From: Fire Mountain Gems Specials - Tuesday Sep 03, 2019 01:51 pm
---
Jewelry with deeper meaning is trending and it's because in this constantly amped-up world, people are looking for ways to relax, soothe stress and improve personal well-being. See how mala jewelry is the perfect way to achieve this while enjoying a beautiful necklace or bracelet.

Read the Article ›
Beadatorial
Men's Trend:
Power Bracelets

From the red carpet to big-name brand models, men are pairing expensive wrist wear, such as a Rolex watch, with simple gemstone stretch bracelets referred to as power bracelets. What is a power bracelet? Learn the meaning behind these bracelets and how to make them for your customers.

Read the Article ›
Featured Project
Single-Strand Necklace with Gemstone Beads, Tassel and Antiqued "Pewter" Beads

Make your own mala necklace by following along with these free instructions. Customize the design with gemstone beads that amplify the metaphysical properties you or your customers want.

View the Instructions ›
Trend Swatch
Single-Strand Necklace with Antique Silver-Finished "Pewter" Focal, Taiwanese Cheesewood Beads and Pebeo Porcelain Paint

Meditation has never been so lively! The round wood beads on this mala-inspired necklace have vibrant colors that correspond to the seven chakras for focusing on wellbeing from crown to root. The pinkish purple of Midnight Kiss is for the crown chakra, teal of Times Square relates to the throat chakra and yellow of Countdown represents the solar plexus chakra. If you like this color palette, get designing by shopping a selection of color-matched products just by clicking on each swatch.

View the Design Idea ›
New Stylish Stringing Project
A Woven Wonder

This week's featured project weaves together brilliant style and an on-trend look with its 38-inch tassel necklace and long dangle earrings. You'll be amazed at the intricate detail the lightweight acrylic and enamel beads offer, creating the look and appeal of metal without the weight or cost. Discover how to easily create a necklace tassel by simply stringing two strands of Accu-Flex® professional-quality beading wire through a bead station. Open yourself up to the beauty and strength of magnetic clasps for a noticeable necklace finish. String this woven-looking jewelry set today with the FREE step-by-step instructions now available.

Read the Article ›
Book of the Week
55 Gorgeous Jewelry Designs to Make You Feel Beautiful

By: Bead Trends Magazine


Feeling beautiful is all about a state of mind. Jewelry can help you feel particularly lovely and ready to tackle the day. That's why this Book of the Week comes to you with 55 gorgeous jewelry designs to make you feel beautiful.


Retail Price: $17.95
Your Price: $ 3.00
Order Now ›
Featured Artist
Marjorie Kemp

When and how did you begin making jewelry/beading?

I recently attended a series of workshops on different prayer experiences, one of which focused on prayer beads. I started looking into various prayer bead traditions and was anxious to make my own strand to support my daily meditation/breathing practice. Before I was able to ...

Read Marjorie Kemp's Story ›
Ask the Experts
How do you use ''T'' drilled beads and end beads? Also how do you make tassels?

Read the Answer ›
Featured Business Article
Intrepid Suggestions: What do you say when someone tells you what to create?

Courtesy of the Handmade Business magazine

Many artists get suggestions of new subjects from people--their dealers, their collectors, their artist friends and spouses, someone who shows up at an exhibition opening. How do you handle these sometimes unwanted artistic suggestions?

Read the Article ›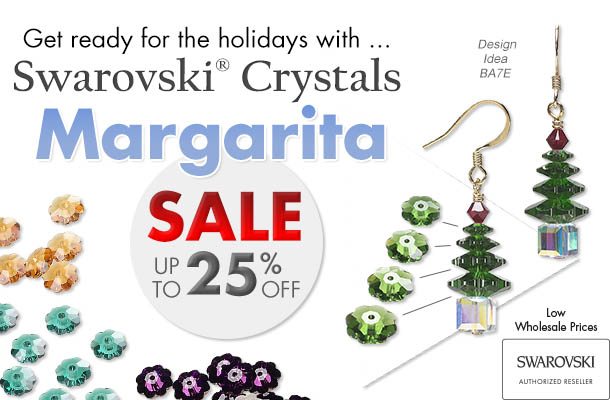 Fire Mountain Gems and Beads, Inc.


One Fire Mountain Way,

Grants Pass, OR

97526-2373 USA


US and Canada Customer Service:

(800) 423-2319


International Customer Service:

(541) 956-7890
To ensure you continue receiving emails from us, please add
fmg@email.firemountaingems.com to your address book.

You are currently subscribed as: newsletter@gmail.com
Email Preferences | Unsubscribe | Privacy Policy | Return Policy

View Email as a Web Page


Copyright 2019 All Rights Reserved

Prices subject to change without prior notice.
Not responsible for typographical, descriptive or technical errors for products listed.