From: Fire Mountain Gems Specials - Wednesday Sep 04, 2019 01:42 pm
---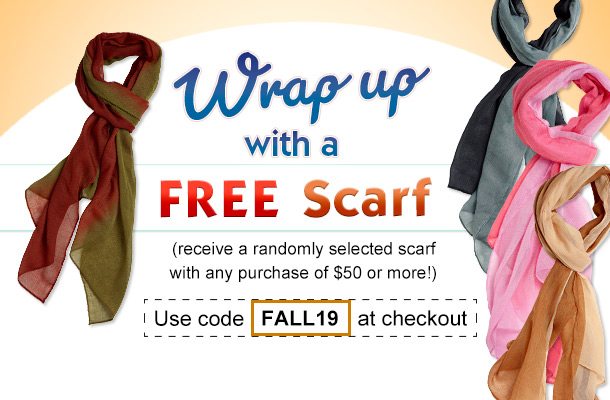 Fresh from the fire and ready to cool, these glass beads are still hot with how much you can save. Get tons of different shapes, sizes and colors, including plenty of fun animal designs that you can fall in love with. Don't wait for these savings to become ice cold to stock up for your holiday jewelry lines. This sale ends September 9th at 11:59 p.m. PT.

Speaking of arguably the best season of the year, let's talk about accessorizing. Cooler weather means plenty of fashion opportunities, so we'll send you a FREE handcrafted two-tone scarf with any $50 or more purchase to help get you ready for autumn. Enter code FALL19 at checkout before September 22nd at 11:59 p.m. PT (while supplies last).

Happy beading,





Chris, Stuart and Sophie

Recommended Just For You:

Scarf with Antiqued Silver-Finished "Pewter" Bead Cages and Metal Chain

Fall fashion is never dull, and when you include some glass beads on-fire from the sale and beautiful sterling silver on a scarf you're going to make it hot.


If you place your jewelry supply order by 1 p.m. with an express level shipping method, we get your order out the door the same day! Getting your beads sooner means more time for jewelry-making.

Fire Mountain Gems and Beads, Inc.


One Fire Mountain Way,

Grants Pass, OR

97526-2373 USA


US and Canada Customer Service:

(800) 423-2319


International Customer Service:

(541) 956-7890
To ensure you continue receiving emails from us, please add
fmg@email.firemountaingems.com to your address book.

You are currently subscribed as: newsletter@gmail.com
Email Preferences | Unsubscribe | Privacy Policy | Return Policy

View Email as a Web Page


Copyright 2019 All Rights Reserved

Prices subject to change without prior notice.
Not responsible for typographical, descriptive or technical errors for products listed.