From: Fire Mountain Gems Specials - Saturday Sep 07, 2019 01:45 pm
---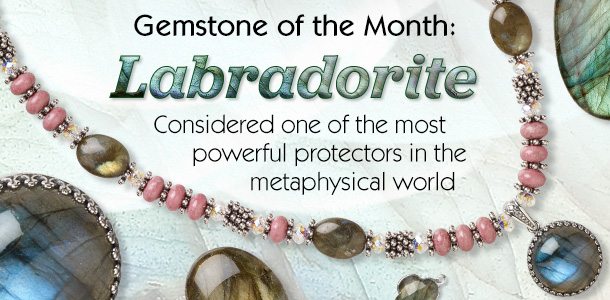 Full of flash, labradorite is a stunning gemstone that jewelry-makers are raving about. Learn about the stone itself, how other designers are using it and some interesting facts about its signature play of light.
Labradorite Gemstone Meaning
Discovered in 1770 on the peninsula of Labrador in Canada, labradorite is an eye-catching gemstone thanks to lamellar twinning. Not sure what that is? This Gem Note explains what's happening inside the stone as well as other geological properties, metaphysical uses and how to care for the gemstone.


Knight by Jose M. Cardenas
Knight by jewelry designer Jose M. Cardenas was the Employee's Choice winner in a recent contest and it's not hard to see why. The breathtaking labradorite stone surrounded by talented wirework was actually a gift from Jose's friend who found the stone in Arizona. Talk about putting a present to good use!


Special Effects in Jewelry-Making Materials
Did you know special effects exist naturally in gemstones? The "eye" of tigereye, opalescence of opal, labradorescence of labradorite and more are all fascinating natural occurrences. Impress your customers by explaining what these phenomena are when they're purchasing your jewelry featuring natural special effects.


NEW Single-Strand Necklace and Earring Set with Labradorite Gemstone Beads and Drop, Swarovski® Crystals and Sterling Silver Links
Sterling silver and the grey base color of labradorite give a sleek, sophisticated look to this NEW necklace and earring set. The facets highlight the labradorescence of the gemstone, increasing the eye-catching quality of the pair. A perfect design for dressing up work outfits or for special occasions.


Style Snapshot: Stone Grey Color
Earthy color palettes continue to be popular. An ever-present, yet sometimes accidentally overlooked, organic color is stone grey. A neutral tone of modernity, grey works incredibly well in jewelry and accessories for most demographics--and there are specific reasons why.


Triple-Strand Necklace and Earring Set with Blue Labradorite Gemstone Beads, Swarovski Crystal and Rainbow Moonstone Gemstone Beads
Not sure what else to use with labradorite for your jewelry? Some designers like to incorporate other gemstones with interesting natural qualities. Swarovski crystals provide a different kind of flash to pair along with the play of light in labradorite. Both are used in this design to give you inspiration.


Shop All Labradorite
Find the labradorite beads, cabochons, pendants and more to create handmade jewelry your customers will be fawning over.



Fire Mountain Gems and Beads, Inc.


One Fire Mountain Way,

Grants Pass, OR

97526-2373 USA


US and Canada Customer Service:

(800) 423-2319


International Customer Service:

(541) 956-7890
To ensure you continue receiving emails from us, please add
fmg@email.firemountaingems.com to your address book.

You are currently subscribed as: newsletter@gmail.com
Email Preferences | Unsubscribe | Privacy Policy | Return Policy

View Email as a Web Page


Copyright 2019 All Rights Reserved

Prices subject to change without prior notice.
Not responsible for typographical, descriptive or technical errors for products listed.