From: Fire Mountain Gems Specials - Sunday Sep 08, 2019 01:33 pm
---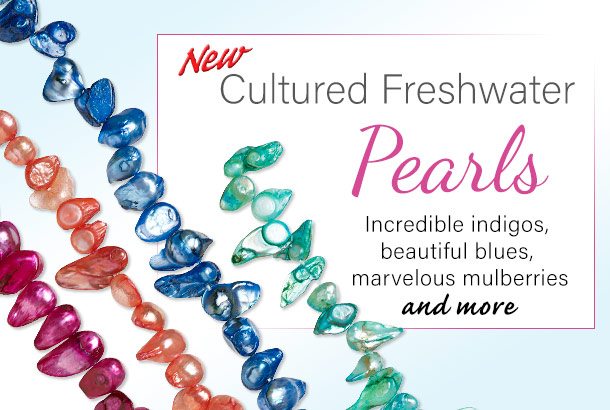 You wanted more stainless steel, so you get more stainless steel. The growing selection of stainless steel findings and components includes everything you need to make beautiful and incredibly durable jewelry all the way down to the crimps and head pins.

A plethora of brand new cultured freshwater pearls is available in an array of new colors, shapes and sizes. You'll love the incredible indigos, beautiful blues, marvelous mulberries and outstanding orange. All are limited inventory, so be sure to snag them while you can!

Happy Jewelry-Making,





Chris, Stuart and Sophie

Recommended Just For You:

Persephone's Psychopomp

This jewelry set not only looks beautiful with the stunning Swarovski crystal pearls, but it smells great, too. The beautiful tree locket has a felt insert with a few drops of essential oils.


You won't find a better assortment of jewelry findings. Bails, jumprings, clasps and more are available in a multitude of sizes, shapes, materials (including a number of options for those with metal sensitivities) and colors.

Fire Mountain Gems and Beads, Inc.


One Fire Mountain Way,

Grants Pass, OR

97526-2373 USA


US and Canada Customer Service:

(800) 423-2319


International Customer Service:

(541) 956-7890
To ensure you continue receiving emails from us, please add
fmg@email.firemountaingems.com to your address book.

You are currently subscribed as: newsletter@gmail.com
Email Preferences | Unsubscribe | Privacy Policy | Return Policy

View Email as a Web Page


Copyright 2019 All Rights Reserved

Prices subject to change without prior notice.
Not responsible for typographical, descriptive or technical errors for products listed.