From: Aaron Pressman - Friday May 07, 2021 01:44 pm
---


As you may have heard a few times, Tesla and SpaceX CEO Elon Musk is hosting Saturday Night Live this week (with musical guest Miley Cyrus). Here's an idea for a sketch putting Musk on stage with one of the most classic set of characters from 1970s-era SNL.

(OPEN ON: A HIGH-TECH OFFICE, ELON MUSK IS SEATED BEHIND A DESK WORKING ON HIS LAPTOP, PICTURES OF TESLA CARS ON THE WALL.)

(ENTER KYLE MOONEY, LOOKING DOWN AT AN IPAD)

MOONEY: Elon, uh, I, uh–

MUSK: What is it, Kyle? I'm busy. Did Grimes want to borrow the cybertruck again to take X AE A-12 for a ride? It's okay, it helps him sleep.

MOONEY: No, it's, uh, they're—

MUSK: Is it the SEC? They never get my Twitter jokes.

MOONEY: No…

(DAN AYKROYD AS BELDAR CONEHEAD, JANE CURTAIN AS PRYMAAT CONEHEAD, AND LARAINE NEWMAN AS CONNIE CONEHEAD BURST INTO TO THE OFFICE. THEY ARE WEARING SMALL SILVER CAPES OVER REGULAR CLOTHES. THEY EACH HAVE AN 8-INCH BALD CONE ON THEIR HEAD.)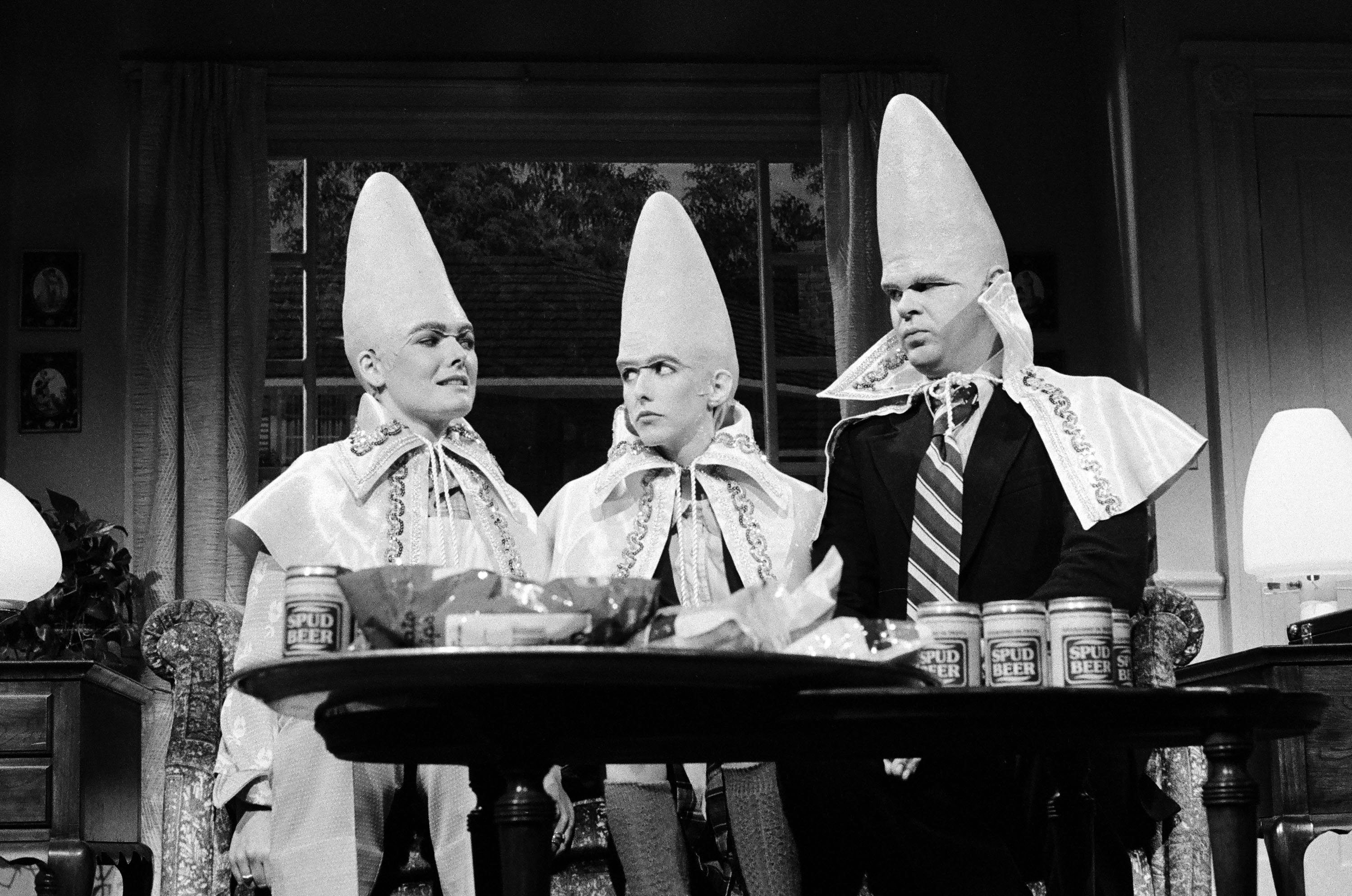 SATURDAY NIGHT LIVE — Episode 3 — Pictured: (l-r) Jane Curtin as Prymaat Conehead, Laraine Newman as Connie Conehead, Dan Aykroyd as Beldar Conehead during 'The Coneheads at Home' skit on October 21, 1978 — Photo by: Alan Singer/NBC/NBCU Photo Bank (Photo credit: Alan Singer/NBC/NBCU Photo Bank via Getty Images)

AYKROYD: Greetings. I am Beldar, this is my wife Prymaat and my daughter Connie. We were sent to this planet 66 years ago from Remulak to serve as timekeepers. But we lost our starcruiser in Lake Michigan. We have been awaiting a rescue ship.

MUSK: A rescue ship? You're aliens? Like actual space aliens? And you've come to me because I'm making these amazing rocket ships and we just took four astronauts to the space station and you want to borrow one to—

CURTAIN: Incorrect. Your puny ships could not get us even to Mars let alone to the Remulak starport. We have built our own ship to make a return.

MUSK: Your own ship? That is very cool. So could I—

AYKROYD: Enough of this banter. Give us all of your dogecoin.

MUSK: My dogecoin? You want my crypto? Is that how money works in space—it's all digital? I knew it!

AYKROYD: Incorrect. We require several air purifiers for our voyage. Prymaat has determined that Kronos in Los Angeles makes superior purifiers. But we must remain anonymous to avoid suspicion. They will transact in dogecoin.

NEWMAN: We know you hodl the doge! Surrender the doge!

(ENTER MILEY CYRUS DRESSED IN A WILD, SPARKLY PANTSUIT, WITH CRAZY HAIR AND SOME TATTOOS VISIBLE, HOLDING AN INTERSTELLAR SPACE RAY GUN.)

MILEY: All right now, all of you settle down. No one is taking anyone's crypto today.

MUSK: Miley Cyrus? Is that you? You're here to rescue me?

MILEY: My real name is Anatnom Hannah. I'm star fuzz, agent of the interstellar cops, space police, baby. (TURNS TO THE AUDIENCE) Y'all knew I was an alien, right?

AYKROYD: Curses. Our plan to purloin dogecoin to purchase purifiers pursuant to our planetary progression terminates.

MILEY: My work here is done…

ALL (TURNING TO CAMERA, SHOUTING): Live from New York, it's Saturday night!

Aaron Pressman
@ampressman
aaron.pressman@fortune.com


Special Offer! $1 for 4 weeks
Subscribe for the analysis you need without all the noise. Try Fortune for $1.

Gotta feed the need machine. After Apple forced developers to append "privacy nutrition labels" to all mobile apps, Google says it will follow suit. Android app makers will have to disclose what data is collected about users starting no later than the second quarter of next year. In other new features coming soon to a screen near you, Twitter is adding a "tip jar" to let users send money to the authors of tweets they appreciate.

What if I'm down, what if I'm out. Stock market investors are suddenly getting picky about the wild, new companies that have gone public lately. Shares of Coinbase, which started trading last month and reached a high of over $429 on April 14, dropped for the fourth day in a row and closed under $257 on Thursday. And Cathie Wood's ARK Innovation exchange-traded fund lost 3% on Thursday and is down 15% in the past two weeks. "We saw a mini-bubble in SPACs, IPOs, crypto, clean-tech and hyper-growth in late 2020 and early 2021 and many of these asset classes are nursing bad hangovers," Mike Bailey, director of research at FBB Capital Partners, tells Bloomberg.

Diamond hands. Elsewhere on Wall Street, cloud payments service Bill.com is acquiring expense software developer Divvy for $2.5 billion. We also had plenty more quarterly reports. Square's revenue, at $5.1 billion, was so far above the average analyst forecast of $3.4 billion that it's crazy, crazy like crypto. More than two-thirds of all of the revenue was from Square's barely-profitable bitcoin trading business. "Our focus, first and foremost, is on enabling ... bitcoin to be the native currency," CEO Jack Dorsey told analysts. Square's stock price, previously up just 3% in 2021, rose 2% in pre-market trading on Friday. At Roku, sales rose 79% to $574 million, also much better than expected. Roku shares, which have slipped 14% this year, jumped 8% pre-market.

Episode VII: The fakes awaken. Most of the 22 million comments submitted in the Federal Communications Commission's 2017 net neutrality proceeding were fake. A 19-year-old submitted 7.7 million fake comments supporting net neutrality and a broadband industry group filed 8.5 million phony opposing missives, according to an investigation by the New York Attorney General's office. Some well-known broadband companies involved hired firms to conduct the campaign but there was no evidence they had "direct knowledge of fraud," the AG's report said. In other messy regulatory matters, online financial services startup but not a bank Chime agreed to stop calling itself a bank per a settlement with California's Department of Financial Protection and Innovation.

Not dead yet. It actually has nothing to do with a measurement of 2 nanometers, but IBM announced a major breakthrough in cramming more transistors onto the silicon chips that run our world, furthering Moore's Law yet again. But, yes, yes, they are calling it "the world's first 2 nanometer chip" and it will help make chips that are more powerful while using less energy. Ian Cutress at Anand Tech has a great explanation of why the breakthrough matters a lot yet doesn't actually include any features measuring 2 nanometers. By the way, the same is true of TSMC's "7 nanometer" chips or Intel's "10 nanometer" chips, regardless of the cool-sounding 1/10,000 the-width-of-a-human-hair descriptions we could make.


Take your data and learning to the next level.
Unlimited knowledge. Without the travel. Inspirational keynotes. Over 100 mind-blowing data integration and data analytics breakout sessions. Endless virtual networking opportunities. All at your fingertips. Register for QlikWorld Online 2021


Most recent smartphones and even some computers can be set to shift the colors on screen to display less blue light towards the end of the day. On Apple iPhones this is the "Night Shift" setting and on Android it's "Night Mode." The idea is supposedly that seeing less blue light will help users fall asleep more easily. Researchers sadly found otherwise, as Samuel Axon reports for Ars Technica.

For individuals who slept more than 6.8 hours per night, there was some improvement in sleep quality for those who did not use their smartphones at all. But Night Shift didn't have a significant impact, and there was no difference between those who used smartphones and those who didn't when the amount of sleep was less than 6.8 hours per night.

"This suggests that when you are super tired, you fall asleep no matter what you did just before bed... the sleep pressure is so high, there is really no effect of what happens before bedtime," said Chad Jensen, one of the researchers.

The researchers further posited that mental stimulation, not the kind of light displayed, plays a role in impacting sleep quality for those who regularly get a sufficient amount of sleep.


FOR YOUR WEEKEND READING PLEASURE

A few great long reads I came across this week:

TikTok and the Vibes Revival (The New Yorker)
Increasingly, what we're after on social media is not narrative or personality but moments of audiovisual eloquence.

After years as a meme, 'Disaster Girl' takes control of her image — with a hefty payoff (Raleigh News & Observer)
Zoe Roth couldn't stop checking her phone. "What's it at now, what's it at now?" her co-workers asked as they passed by the hostess stand at the Italian restaurant Il Palio. She gave a live play-by-play, and everyone on staff was invested. As the clock neared 6 p.m. on April 17, she was shaking. Zoe was in the middle of an online auction for a photo, one that years ago had made her 4-year-old self famous.

The Last Days of Satoshi: What Happened When Bitcoin's Creator Disappeared (Bitcoin Magazine)
They suspected that he was British[X], that he was Yakuza[X], that he laundered money[X]. They wondered if he was a woman[X], laid claim just in case[X] and joked about fucking him[X]. They kept contingencies for if he proved crazy[X], eyed for shifts in his sleep[X], debated why he spoke and didn't speak and sent him eager patches signed with pretty please[X].

How Roku's ad sales boss Alison Levin successfully steered through the pandemic (CNBC)
"We knew that the dam that would break and the tipping point would happen."



The food in Rome is pretty fantastic, so I'm not sure why the city is the testbed for the new Mr Go Pizza machine that can knead out a pizza dough, add toppings, and bake it—all in just three minutes. As one university student told Reuters—and who better to judge the quality of a pizza-making-robot machine than a university student?—"it's okay but it's not pizza." Find a better-than-okay slice near you this weekend and we'll see you back here on Monday.


Did someone share this with you? Sign up here. For previous editions, click here.

To view all of Fortune's newsletters on the latest in business, go here.