From: Tokyo Otaku Mode - Monday Apr 11, 2022 05:28 pm
---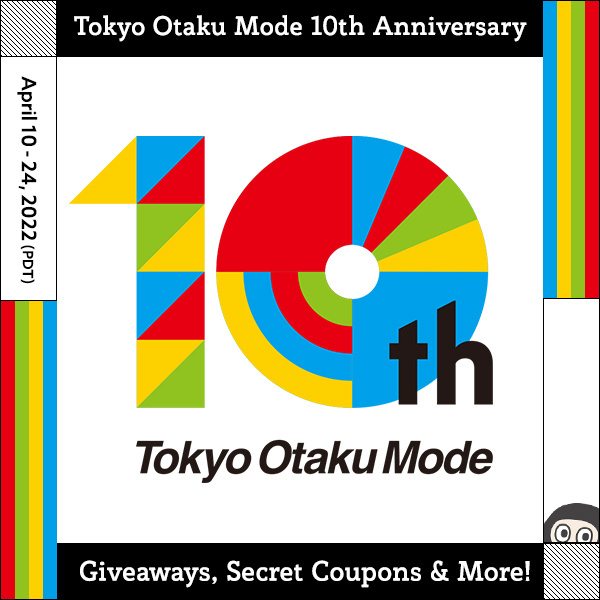 April 2022 marks Tokyo Otaku Mode's 10th anniversary!
And we're super excited to celebrate with you! We've got a lot going on—here's a quick rundown of some of the highlights!
Giveaways
We're holding a bunch of different giveaways (for figures and special merch) all at the same time. Of course, it's totally fine to enter every single giveaway. In fact, we encourage it! It should only take a minute or so even if you decide to enter all of them.
Figure Photo Contest Voting
In TOM's latest Figure Photo Contest, we've added an extra tier of prizes that will be decided by your votes! Voting for this prize tier is now open. And to show our appreciation for your participation, all voters will receive $5 TOM Points after contest winners are announced in May. Have fun browsing the entries & voting to support your favorites!
Secret Coupon Spin
Scroll to the bottom of our 10th anniversary page, and you'll see an explanation of a little mini-game we'll have running throughout the two-week celebration. If you manage to hunt down TOM's mascot, Ninja-kun, you'll be able to spin for a daily coupon ranging in value from $3 to $100. Find Ninja-kun again the next day, and you'll be able to nab another coupon!
And More!
We've also added pages where you can browse official messages from our partners, check out nifty 10th anniversary merch, and learn some fun facts about those of us who work here at TOM. All in all, there's a lot happening, so take your time when going through our 10th anniversary content. More than anything, we hope you have fun!
This email address is registered on TOM: newsletter@gmail.com
Unsubscribe
Tokyo Otaku Mode Co. Ltd.
Nagatacho GRID 2-5-3 Hirakawa-cho, Chiyoda-ku Tokyo, Japan 102-0093