From: Scott's Cheap Flights - Monday Feb 22, 2021 02:31 pm
---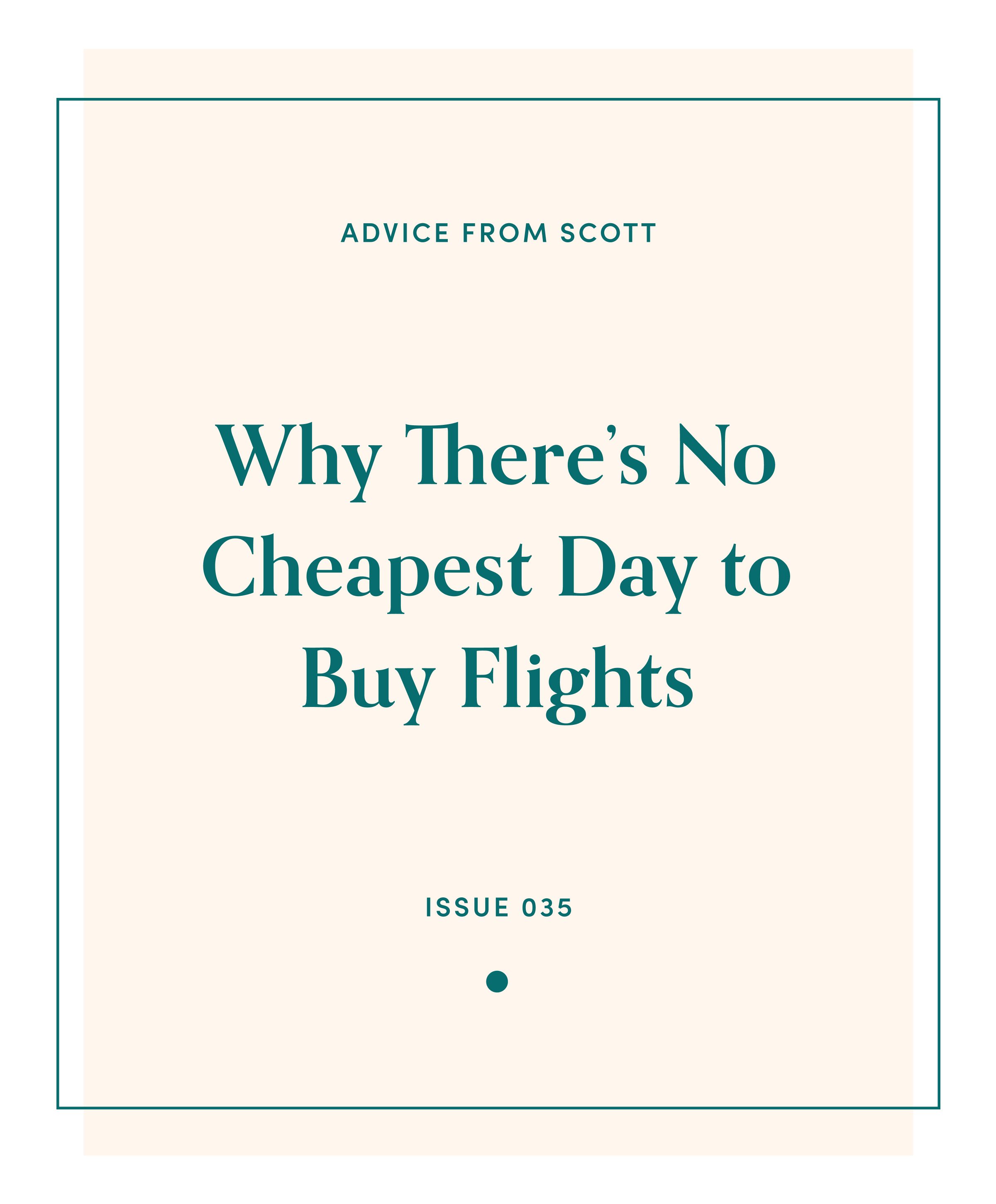 How many times have you heard this claim?

"Book your flights on Tuesday at 1pm because that's when they're cheapest."

If I achieve one thing in my brief stint on Earth, it will be to convince travelers to stop believing this nonsense. It's not true, it won't help you get cheap flights, and if anything will likely result in you overpaying for your next trip.

Here's what you need to know:
🕵️ It used to be true
Unlike many myths, this one has the benefit of having once been true. (Perhaps that helps explain its staying power?)

It first became possible to purchase airfare online decades ago. At that time, most airlines would update their fares once a week at a predetermined time—in many cases, Tuesday at 1pm. The cheapest fares often had just a handful of seats available, so if you searched Tuesday at 1pm you really could find a great deal.

The problem: this isn't how it's worked for a long time.

Airfare doesn't change weekly these days. It changes daily, hourly, sometimes even minute-ly. In 2000, airfare was stable; today, it's extremely volatile.


📅 No predictably cheapest time to book
What if I asked you: what time next week will GameStop stock trade at its highest? You, rightfully, would look at me cock-eyed. The answer is not just unknown; it's unknowable.

So, too, is it with airfare.

Neither I nor anyone else can tell you with certainty when (or where) next week's cheapest fares will pop up.

These days, airfare is set by complex algorithms that account for hundreds of ever-shifting factors, from consumer demand to oil prices to competitor's prices and beyond. One factor airlines no longer rely on: technological constraints that only allowed them to change fares once a week at a set time.

The bad news: there's no predictable time or date when flights are cheapest to book.

The good news: cheap flights are popping up all the time. That's what Scott's Cheap Flights is for.


🥣 Goldilocks windows
Though there's no set time or date that's always cheapest to book, there's still a period when cheap fares are most likely to pop up. I call these Goldilocks Windows.

For domestic flights, it's normally 1 to 3 months before your travel dates. For international trips, it's 2 to 8 months prior. If your trip is during a peak travel period (Christmas, summer, St. Patrick's Day in Dublin) add a couple months to those windows.

Be aware: though last-minute flights are usually expensive, there's a temporary reversal happening right now. As we noted in our February 8 email, tons of last-minute fares are downright cheap these days. I would not expect this oddity to continue once the pandemic has receded and business travel returns.


🛫 There are cheapest times to travel
Though there's no predictably cheapest date to book, there are travel dates that tend to be cheaper.

Cheapest days of the week to fly: Tuesday, Wednesday, Saturday
Cheapest months of the year to fly: January, February, March, October, and November

Those days are cheaper because business travelers avoid them, and those months are cheaper because they're less popular for vacationers (with the exception of domestic Thanksgiving flights).

Don't overlearn these cheap times, though. Probabilities aren't guarantees. LeBron is favored to win every time he steps on a court, but that doesn't mean he never loses. Though fares are usually less expensive in the winter, we still find plenty of cheap summer flights for SCF members.
---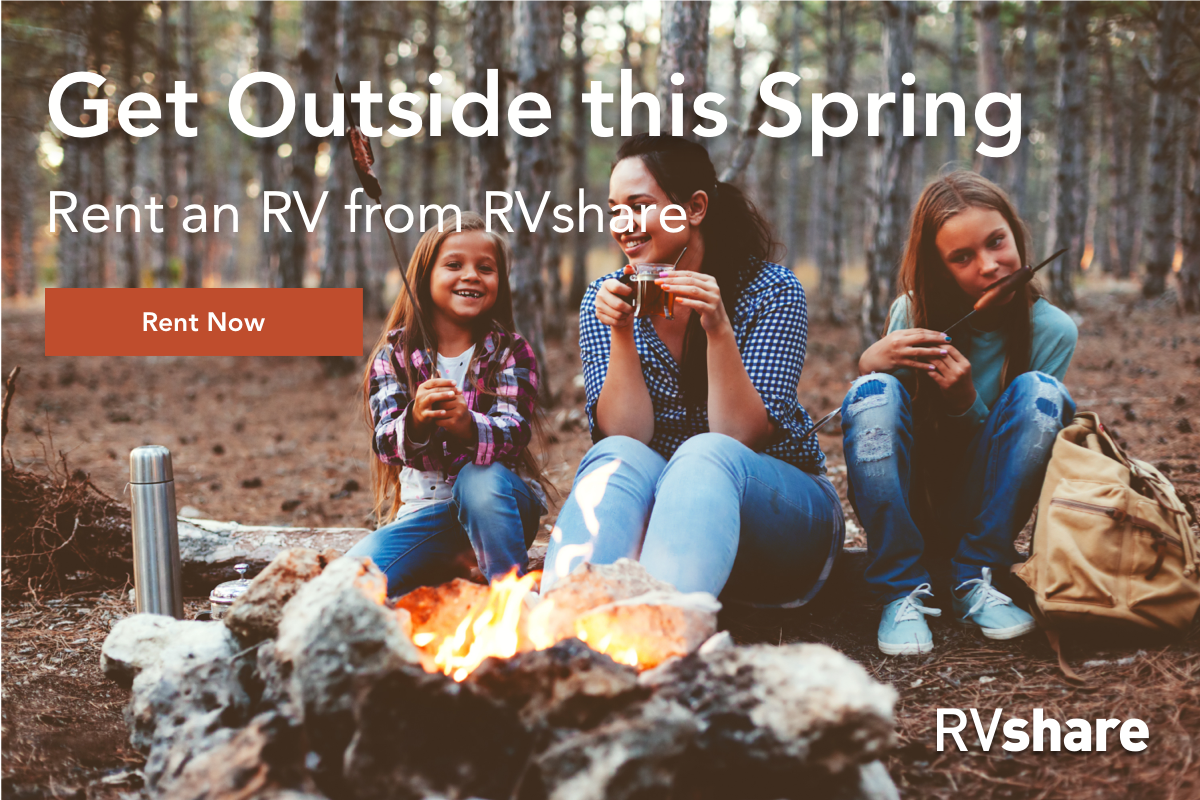 RV travel is still riding high
Spring is right around the corner and let's face it: we ALL have the travel bug. While you're waiting on that next long-haul flight, you can still have an unforgettable travel experience with RVshare.

RVshare is the first and largest peer-to-peer RV rental marketplace. With more than 100,000 vehicles available, RVshare's diverse inventory ranges from affordable travel trailers to luxury motorhomes and can accommodate any outdoor adventure, whether it's a weekend of camping or a cross-country tour of national parks.

RV travel remains one of the best ways to travel during the pandemic, allowing travelers to maintain social distancing practices in a self-contained unit with a bedroom, bathroom and kitchen all on-board. You can even have your RV delivered to your home or end destination.

Find your perfect RV rental today!
---
"I got to see three continents for under $1,300!
I wanted to experience both the tulip season in Amsterdam and the cherry blossoms in Asia, so I took advantage of United Airlines's flash sales to both destinations as an open-jaw. With the time left over, I also spent a week in Australia. Thank you for taking me around the world, SCF!" - Member Whit S.
Want to be featured? Submit your story and photo here.
---
"What's the cheapest or best way to fly to Bora Bora?" - Member Xenafren G.




"Flying from the US, your cost-effective options to Bora Bora are pretty limited. Your best bet might be to grab the next Tahiti (PPT) deal we send out—there are typically $500 or so roundtrip from San Francisco, or between $600 and $800 roundtrip from airports like JFK or Miami—and then grab a nonstop flight between Tahiti and Bora Bora separately. That said, flights between Tahiti and Bora Bora are pretty pricey at $400 roundtrip. Tahiti is beautiful, so if you wanted to stay put and just drink $400 worth of Tahitian Vanilla Punch instead of booking a second fare to Bora Bora, I certainly wouldn't blame you! If you're looking to travel anywhere in the South Pacific, you might consider following some big airports on the West Coast like San Francisco or Los Angeles for the best possible deal. You can edit your departure cities here."

Have a question for our Flight Experts? Email support@scottscheapflights.com to get in touch with our team.

Shelby Bouck


Member Success Specialist
---
Update your email preferences here.
Unsubscribe here.
© 2021 Scott's Cheap Flights. 1942 Broadway St., STE 314C, Boulder, CO 80302, United States