From: Techbargains - Thursday Nov 24, 2022 08:00 am
---
Up to 70% off Amazon Devices, 20% off select eGift Cards & Tech Gifts on a Budget
Trouble viewing this email? View in a browser
If you buy something from our links, we may get a commission from the sale. Learn more here.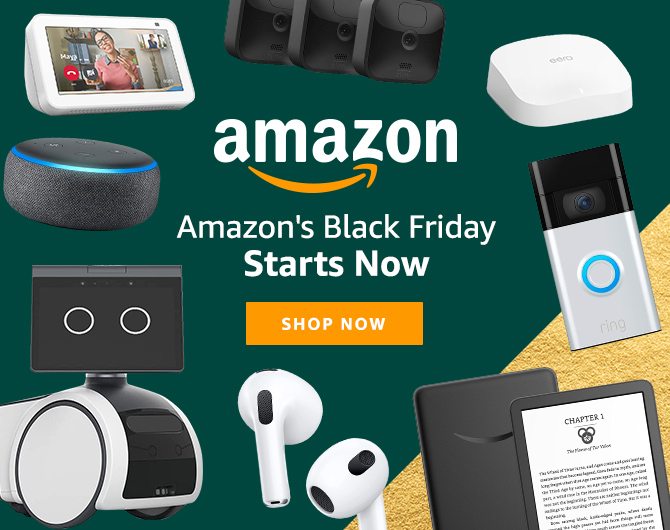 Amazon's Black Friday sale starts early this year. The 48-Hour Deal Event starts now with the most popular deals listed below. Expect lots more to go LIVE later today.
Lowest prices of the year on WD & SanDisk Storage Devices like SSDs, Memory Cards & Hard Drives
$1299 LG OLED C1 65" 4K Smart TV
Rare 20% off Newest AirPods Pro, Apple AirTag Trackers & More
Up to 70% off Echo Auto (1st Gen) and Echo Show Bundles
Up to 57% off Beats Earbuds & Headphones
First discount on select Fire Tablets & Echo Dot (5th Gen), $12.99 Amazon Smart Plug & More
Nearly 100 Amazon Deals of the Day Expected
Other Prime Exclusive Deals, 20% off select eGift Cards
Most-wanted Electronic / Tech Gifts Under $100
All product and deal information such as discount, price and availability are believed to be accurate as of the time of publication. Please verify these details with the merchant site and check the merchant's terms and conditions before you buy. Publisher is not responsible for errors or omissions.
Subscribed to TechBargains as "newsletter@gmail.com" Was this forwarded to you? Subscribe yourself
Unsubscribe link not working? Copy & paste this link to your browser to unsubscribe:
https://cp20.com/
Never Miss a Deal, Follow us on



Ziff Davis | 114 5th Avenue, 15th Fl., NY, NY, 10011