From: zZounds News - Friday Apr 23, 2021 03:36 pm
---
FREE Shipping on Every Order!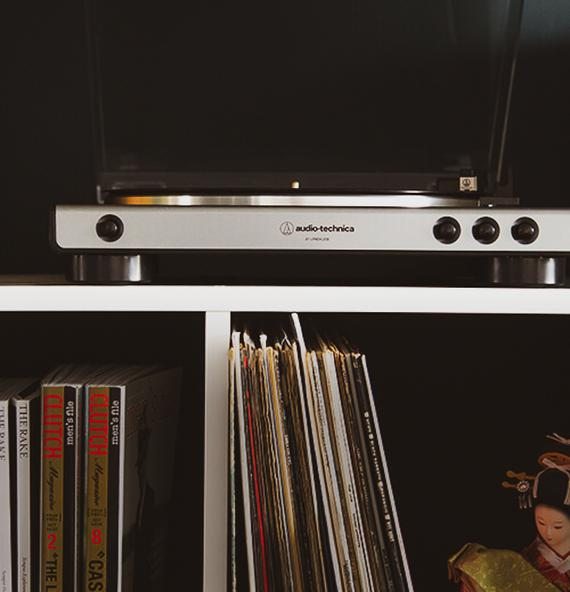 New Stereo System? Choose From Three Possible Endings
Here's the setup: You bought the most gorgeous, nicest-sounding, analog hi-fi stereo on the planet -- a true pawn shop diamond in the rough. Now you must choose a way to venture into the wondrous world of audiophile audio. First, we'll need you to take a look at the back of your stereo system. Will you choose to ride the steady rocket of a phono preamp, or take a wild ride on a Bluetooth transmitter? Does a space-age speaker send your mind racing? The choice is yours...
---
WARNING!!!
Do not read this email all the way through. When prompted, skip to the journey you'd prefer to take. Start immediately below.
---
You begin by moving your furniture around. It's been a while since you've seen the back of your stereo console. You notice myriad connection jacks: PHONO IN/OUT, TAPE IN/OUT, BANANA JACKS, and FM ANTENNA. What do you do now?
- Find a way to ride a rocket to the pristine-sounding world of active studio monitors:
skip to ending A.
- Stay the course. Keep your existing, warm analog audio setup:
skip to ending B.
- Go wireless:
skip to ending C.
---
ENDING A.
You turn on your computer and fire up your browser. As you fumble through the thoughtfully laid out zZounds website, you realize you'd really like to update your existing speakers. You don't know German, but you're pretty sure your pair of off-brand, umlaut-donning speakers aren't cutting it anymore. You heard active studio monitors are the way to listen to your music as true as it was recorded.
Pick a pair of
studio monitors
. You're going to use your existing TAPE OUT or PRE OUT jacks to connect a pair of RCA cables or 1/4" speaker cables to your new monitors.
Feel the sheen of transparent sound -- congrats, your journey has ended!
---
ENDING B.
Room-filling is too small an adjective to describe the fabulous sound of your existing speakers. Heart-filling would be more precise. You need these speakers to stay in your life like you need that Japanese-only import album languishing in your auction cart for months. However, there's a problem. The hi-fi you have lacks a certain oomph, and could afford to be louder.
As if in a dream, you flash back to your younger years. You notice your parents fiddling with something they call a "phono preamp." Connected via RCA cables between the turntable and the PHONO input jacks on the back of their console, this magic box lets them lower and raise the volume coming out of the speakers. Those speakers sound warm just like the music. Just like your childhood.
Just as you reach to touch the knob, you awake. You run over to the computer to instantly order one of the
audiophile-quality phono preamps
found at zZounds. You're ready to relive the dream. Your story ends here.
---
ENDING C.
As you see the bevy of connection jacks in front of you, thoughts of Chad come to mind. Chad always talks about his streaming this and his smart home that. "Have you casted [insert top-40 tropical-tinged pop hit], yet? It's the bee's knees," Chad says. Frankly -- as you sort the odd bits of wire and cables tangled up in black -- you've had enough of Chad. You want to go wireless. You need to go wireless. You don't know what A2DP or aptX is, but for darn sure, you know Chad can't be the only one to have it.
Your mind races. You lose your composure and sense of purpose. As you nearly trip and fall disconnecting the last audio cable, something knocks some sense into you. "Bluetooth doesn't just receive...it also sends!" you say. In a flurry of action, you run to your computer, fire up zZounds.com and do a search for
Bluetooth audio transmitters."
Yes. Yes, this was the answer you needed all along.
Now you can use that pair of Bluetooth speakers your significant other gifted you not too long ago. Now you're the one who is cloud-connected. Now you only need one cable. Going TAPE OUT, LINE OUT, or even HEADPHONE OUT is the least of your concerns -- it all works! "It
ALL
works,
Chad
..."
A Selection of Hi-Fi Audio Gear for Your Home:
Questions? Call a gear expert now!


800-996-8637
The Fine Print:
Everything in this email is subject to terms as may be detailed at zZounds.com or elsewhere. We make every effort to ensure accuracy, but prices, availability, specs, etc. are always subject to change without notice. In the event of an error, we'll do our best to remedy it. However, we cannot always honor an incorrect price. Interim markdowns may apply. Discounts and savings cited are versus manufacturer's suggested retail price except where specifically indicated as reduced price.